A blood collection device for microsampling

with predefined blood volume
The novel Capitainer-B product is a four channel blood sampling
card that collects 13.5 microliter whole blood as dry blood spots,
in each of four small cotton DBS paper pads.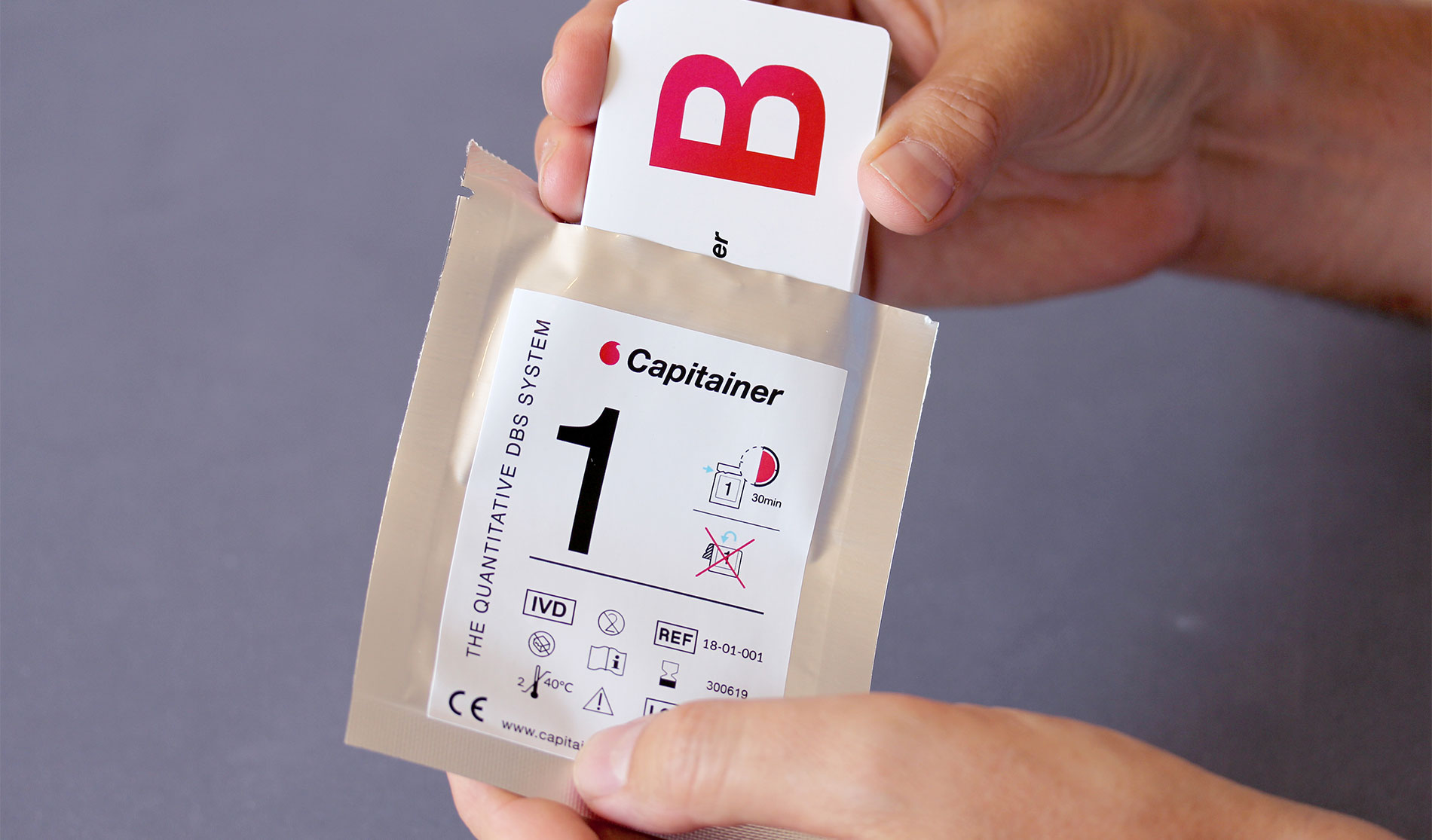 Functioning method
When a sufficient amount of blood is applied to the inlet of the device, a microchannel in the device is automatically filled with the blood through capillary action.
By contact with the applied blood, a dissolvable valve at the inlet is activated. When the microchannel is completely filled, a similar dissolvable valve at the end of the microchannel is activated. Because of the time lag of filling the microchannel, the inlet valve opens first, causing the excess blood to empty into a waste paper layer situated below the microchannel. This action causes the blood in the microchannel to detach. Consequently, the microchannel holds a geometrically controlled volume of blood.
Once the valve at the end of the microchannel opens, the blood gets absorbed into the outlet paper layer of the device. As the blood in the paper dries, a Dried Blood Spot from a quantified blood volume is generated.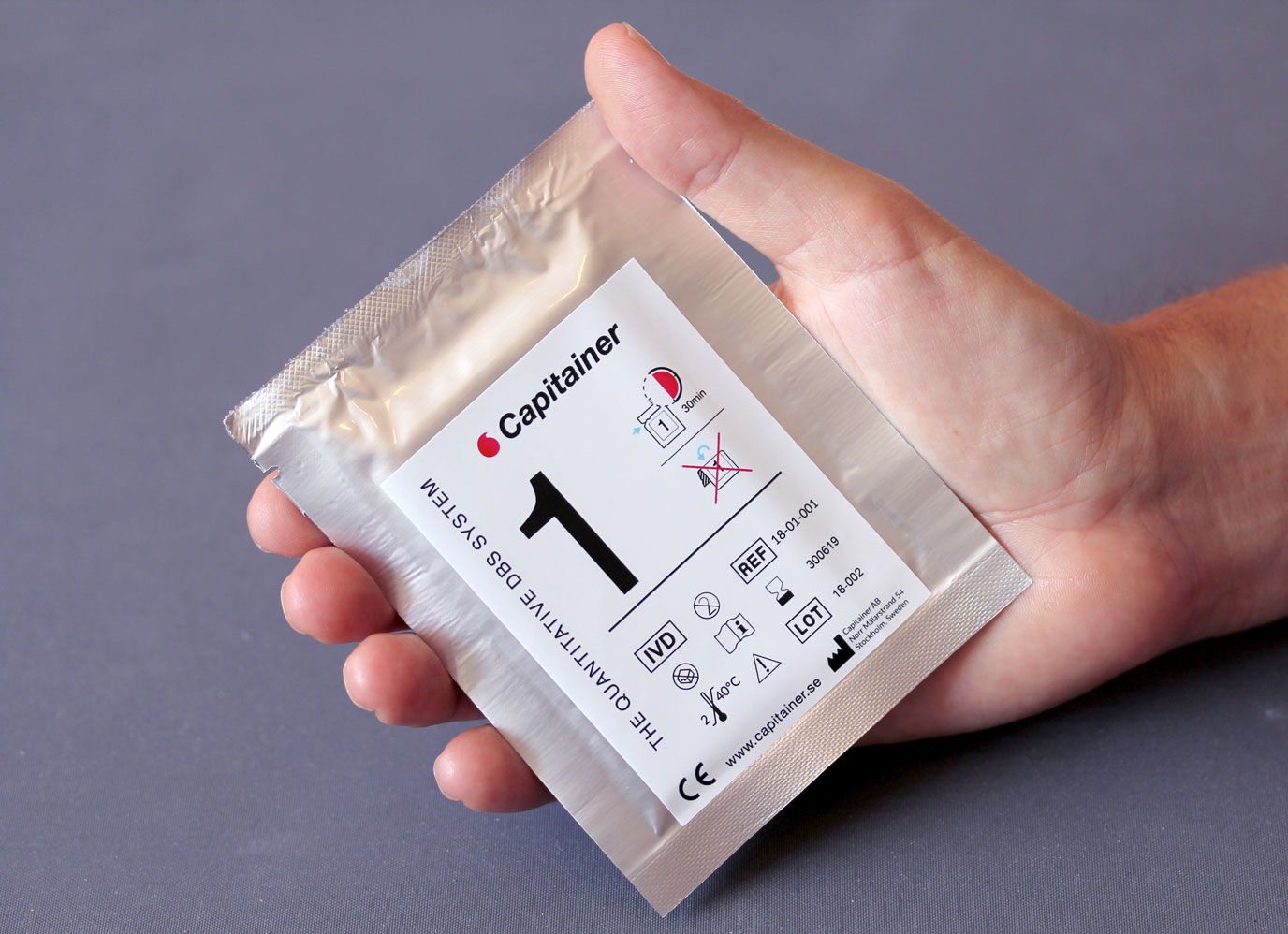 Performance Specifications
Specifications
The Capitainer-B card collects a specific volume of 13.5 µl whole blood in a cotton fibre matrix.
Reproducibility: Less than 0.7µl as one Standard Deviation (SD), (CV< 5%).
Outliers: Rate of over or under-sampling (Deviation > 3 SD) <0,1%
Storage Conditions
Temperature range: +2°C to +40°C.
Relative Humidity range: 10% to 99%
Shelf life: One year from manufacturing
Operating Conditions
The performance is valid under the following conditions:
Temperature range: +15°C to +35°C.
Relative Humidity range: 15% to 90%
Hematocrit value: 25% – 55%
The Card must be used within 30 min from opening the package
Transport
For a limited period, e.g. during shipping;
Temperature range: -20°C to +60°C.
DBS sample storage
The finished and dried samples can be stored under operating conditions for at least one month. (This may depend on analyte and should be validated by the responsible lab)
Materials
PET films, Paper, Ahlstrom grade 222 and 270 DBS paper,
Pouch; LDPE-Al
Card Size: 83 x 53 x 3 mm
Nominal sampled blood volume
Determined by the channel geometry: 13.5 µl
Disposal
Dispose according to local regulations. Take care with blood stained materials and sharps.
Responsible manufacturer:
Capitainer AB
Norr Mälarstrand 54
112 20 Stockholm, Sweden
Questions and inquiries about Capitainer-B?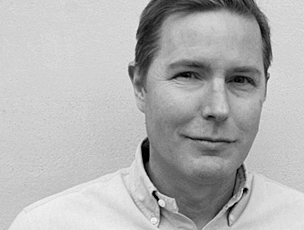 Contact Senior Product Manager Hans Peter Starck-Johnson
Accurate sampling
– Defined volume
– Hematocrit independent
90% cost reduction compared to venoussampling
– Capillary self-sampling
– Simplified laboratory routines
Easy to use
– No venous sampling
– Simpler blood application compared to traditional DBS
Reduced environmental impact
– Less transportation
– Less material consumption
Dry sample storage
– No biohazard transport
– No cold chain required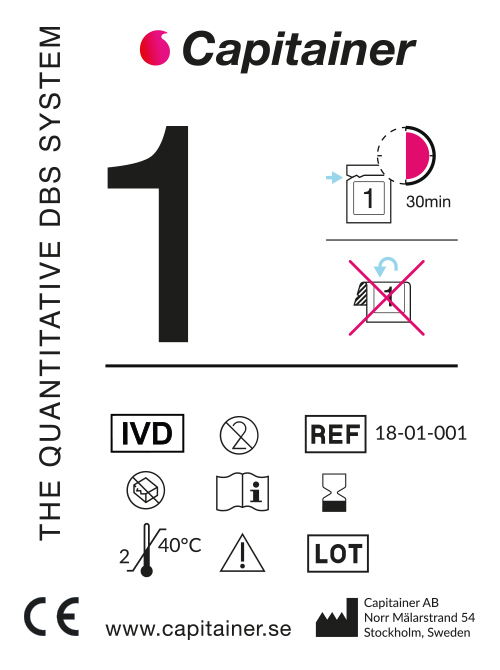 Capitainer B is CE-marked and is being made available for the European market

Capitainer B is registered as an IVD product according to the 98/97EC In vitro Diagnostic Medical Device Directive.

Capitainer B is also registered with the US FDA as a Device Class 1