Indications for Use
The Capitainer qDBS
sample card is intended for the collecting and storing a capillary whole blood sample as a dried blood spot.
The blood sample can then be analyzed in a lab to determine the quantitative presence of any targeted compound. A large blood drop from a finger prick (> 18 μl) should be applied to the device. When sampling is completed, close the card and place in the return pouch. The sample will dry in the pouch and can be sent to the laboratory.
A significant, and growing number of analytes are already validated on DBS. Product availability may vary from country to country and is subject to varying regulatory requirements. Please contact your local sales representative for availability. 
Example analytes:
PEth
DNA/RNA/Proteins
Therapeutic Drugs
Drugs of Abuse
Trace Elements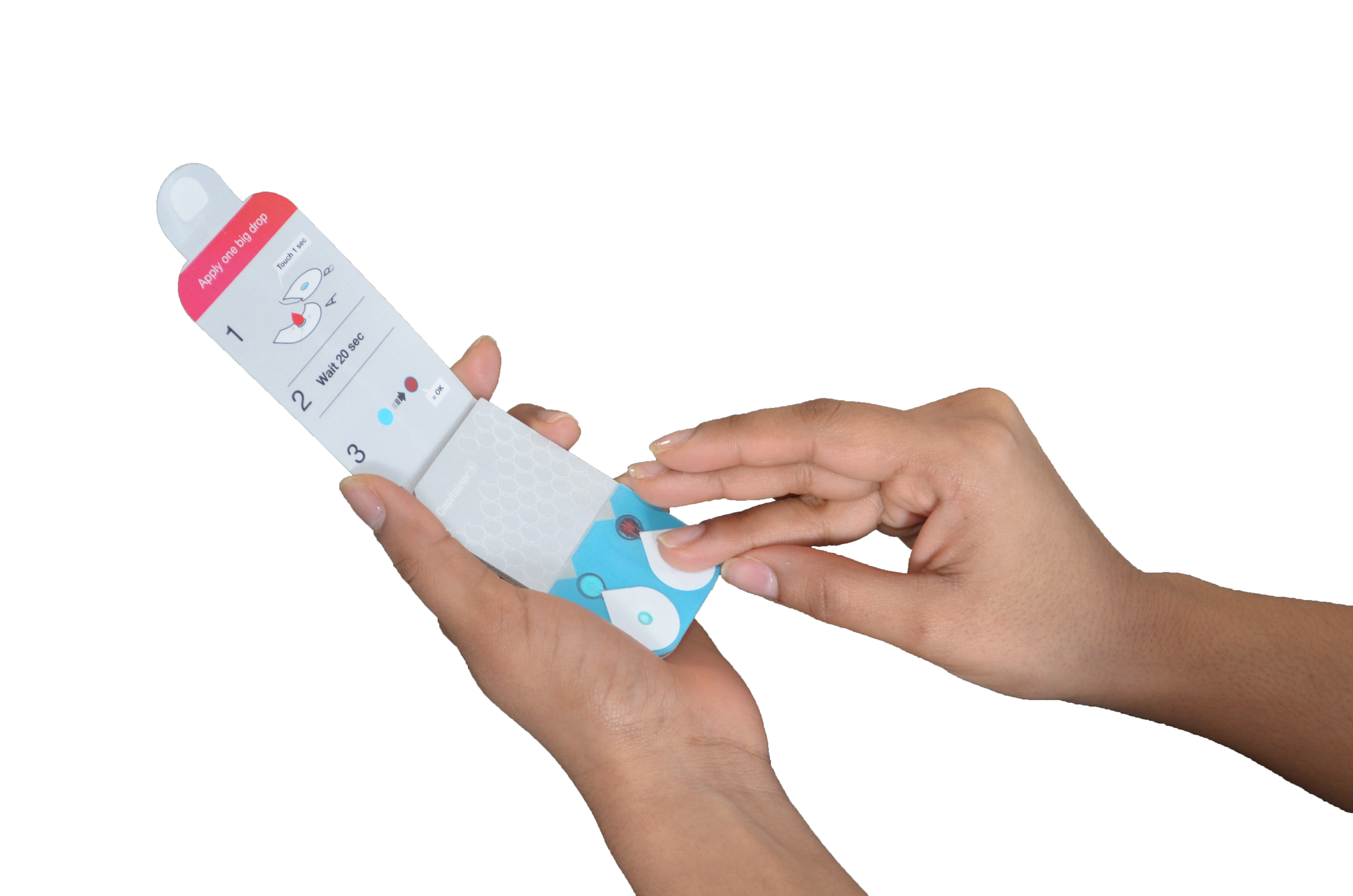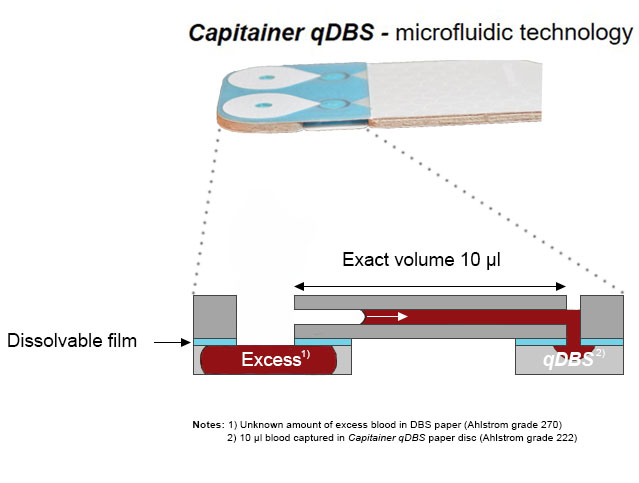 Functioning Method
When a sufficient amount of blood is applied to the inlet of the device, a microchannel in the device is automatically filled with the blood through capillary action.
By contact with the applied blood, a dissolvable valve at the inlet is activated. When the microchannel is completely filled, a similar dissolvable valve at the end of the microchannel is activated. Because of the time lag of filling the microchannel, the inlet valve opens first, causing the excess blood to empty into a waste paper layer situated below the microchannel. This action causes the blood in the microchannel to detach. Consequently, the microchannel holds a geometrically controlled volume of blood.
Once the valve at the end of the microchannel opens, the blood gets absorbed into the outlet paper layer of the device. As the blood in the paper dries, a Dried Blood Spot from a quantified blood volume is generated.
Capitainer qDBS is CE-marked, registered as an IVD product according to the 98/97EC In vitro Diagnostic Medical Device Directive and registered with the US FDA as a Device Class 1.
Performance Specifications
Specifications
The Capitainer qDBS card collects a specific volume of 10 μl whole blood in a cotton paper matrix
Reproducibility:
Better than 0.5 μl as one Standard
Deviation (SD), (CV< 5%)
Outliers:
Rate of over- or under-sampling
(with a deviation > 3 SD) <0.1%
Non-sampling: < 5%
Operating Conditions
Temperature range:
+15°C to +35°C
Relative humidity range:
15% to 90%
Hematocrit value:
25% to 55%
The Card must be used within 30 minutes from opening the package
Transport
For a limited period, e.g. during shipping;
Temperature range: -20°C to +60°C.
Capitainer qDBS sample storage
The finished and dried samples can be stored under operating conditions for at least one month. (This may depend on analyte and should be validated by the responsible lab).
Other information
DBS paper:
Ahlstrom grade 222
Instruction for use (IFU):
For all other product information
see IFU for Capitainer qDBS
Disposal
Dispose according to local regulations. Take care with blood stained materials and sharps.
Responsible manufacturer:
Capitainer AB
Norr Mälarstrand 54
112 20 Stockholm, Sweden