How Capitainer qDBS works
Capitainer qDBS is a blood collection device for microsampling with predefined blood volume.
Capitainer qDBS
Sampling by a healthcare professional
 Less than two (2) minutes
Capitainer qDBS

Blood sampling – important steps
Convenitent and quantative blood sampling at the fingertip for everyone, everywhere at anytime.
Collect a blood sample at the lab or at home and return in the
packaging provided.
Handling of the Capitainer qDBS card
Capitainer qDBS – Home sampling
Capitainer qDBS device is intended to be used by a healthcare professional or anyone
with appropriate training,
to be used with assistance, or for self-sampling.
Instruction for sampling in your home 
Below you can see how easy and convenient you can do sampling with Capitainer qDBS device whereever you are  Instruction in English and Swedish
Questions and inquiries about Capitainer qDBS?
Product availability may vary from country to country and is subject to varying regulatory requirements. Please contact your local sales representative for availability.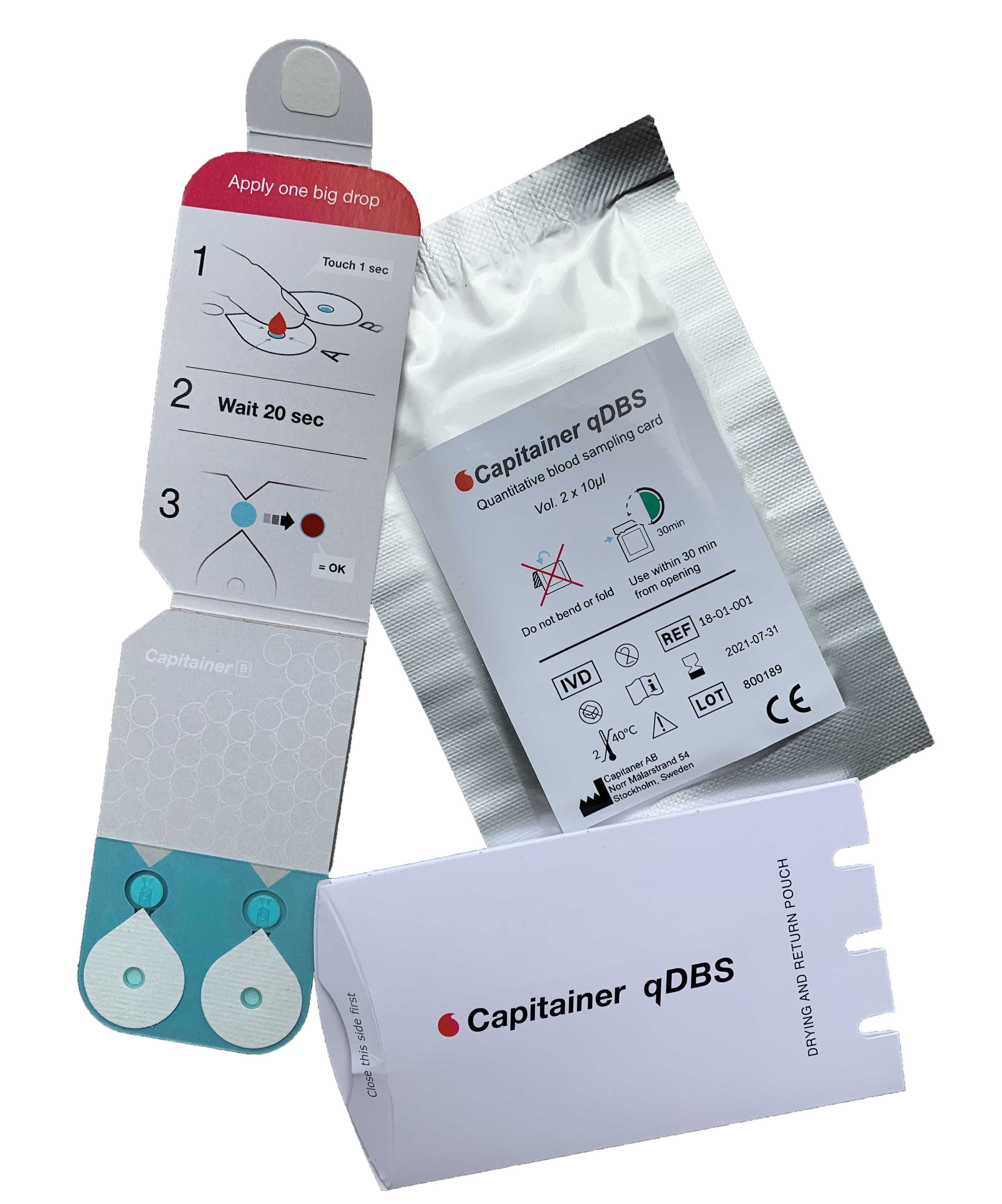 Accurate sampling
Defined volume
Reproducibility: CV, less than < 5%
Hematocrit independent
Easy to use
Capillary sampling
Convenient and quantative blood sampling at the fingertip for everyone, everywhere at anytime
Enables easy and accurate sampling by non-healthcare professionals
Building on over 50 years of clinical utility of dry blood spot cards
Reduced environmental impact
Transportation friendly
Based on degradable material
Dry sample storage
Send with regular mail
No cold chain required
Room temp stability and space saving
Capitainer qDBS
CE-marked and 

registered as an IVD product according to the 98/97EC In vitro Diagnostic Medical Device Directive

Registered with the US FDA as a Device Class 1